Thursday, June 6, 2013
David Francis
The Fiscal Times
Mon, 03 Jun 2013 00:00 CDT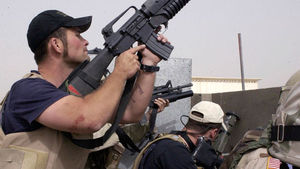 The number of contractors working in Afghanistan now vastly outnumbers American troops stationed there, according to a
Congressional Research Service report
. CRS, along with the
Government Accountability Office
, also determined that the Pentagon is unable to properly document the work these contractors are doing. And the information DOD is receiving is often unreliable and inaccurate.
According to CRS, there are now 108,000 private workers in Afghanistan, a workforce that dwarfs the 65,700 American troops still stationed there. That means there are 1.6 contractors for every American soldier in Afghanistan.
This is an increase from last month, when
The Fiscal Times
reported that there were
1.4 contractors per American soldier
.
Given the size of the private forces, it's not surprising that CRS found that in recent years, the
Defense Department spent more than any other agency to support contractor work.
"Over the last six fiscal years, DOD obligations for contracts performed in the Iraq and Afghanistan areas of operation were approximately $160 billion and exceeded total contract obligations of any other U.S. federal agency," CRS found.
The CRS report comes in the wake of a recent GAO report that the United States spent $195 billion for contractor services in 2010, or twice what it spent on contractors in 2001, before the start of the war in Afghanistan.
The increase in the contractors to troop ration is yet another indication that although the vast majority of troops are leaving Afghanistan, a private army will remain in the country for years.
Link:
here